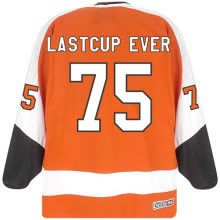 Quiet on the Billboard Material front
I did hear this gem.. Philly will dress Riley Cote for Friday's series opener "
to be an answer to Pittsburgh's George Laraque"

Wha? If he is the answer..how stupid was the question?
Here's your 'answer':
http://www.youtube.com/watch?v=dhCeN3udAy4
>

Forget dressing Cote, Philly better get ahold of Apollo Creed and get him to train Rocky again. Nice job.
Go Pens!