You know, I listened to and read many series previews this week. All sides and sources..but one point was consistant from every media source NOT from Pittsburgh.
They all said Malkin was soft. That's right. Soft. Hit him early and he will go away, was the trendy idea. That was all the Flyers had to do, was to hit Evgeni hard and everything would be okay...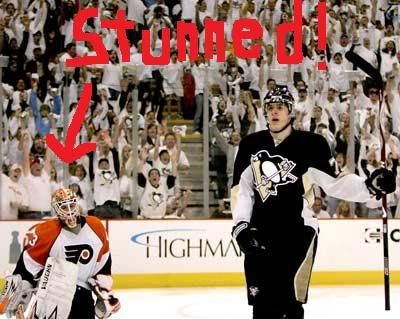 Wonder if they had a 'Plan B'
Well, it's obvious the refs aren't in the mood to decide this series.
But that's okay. We really wouldn't want it that way anyway.

Brief Synopsis of Game One:

Malkin was insane. Scoring, hitting, PP, PK, stealing, passing. His 2nd goal is the nicest I've seen in ages. His five hits was second only to Orpik's six.

Sykora made a beauty himself.

Crosby looks alot faster. The break seemed to have done him good. Had a nice re-direct goal.

Hossa was busy all game, looked good.

Orpik..well..he's the Hulk.
Wow. Dumberger's kids are gonna be born with #44 birthmarks.

And Marc Andre..just like the team..was shaky in the first..then turned red hot. Good job.

Flyers good points..
Richards was scary good at first. That 2nd goal of his was a nice one. Later, he turned to just hitting though. Of course, he still found time to cry to the refs.

Umberger tried..the Pens kept good track of him this game, though.

Hatcher..same clown we love to hate.

Biron..well he didn't have it tonight.

The only 'Dive' was by Upshall.

And Briere..wait..did he play tonight? I didn't notice. heh heh.
Oldie, but still a goodie. (that may my favorite Pensblog photoshop of all!)

See you Sunday, Flyers. Whooooooo!
Go Pens!