Led by a team of overpaid has-beens and one classless joke..the Rangers have defied the odds and made the playoffs.
Jagr and Shanny.. a thousand goals and a hundred Kleenex boxes in the last 20 years. Impressive. Straka..forever Robin to Batman..he still wears the lil tights for Jaromir. I liked him back in the day. Still kind of do..but not for the next two weeks.
New York defeated the Devils to advance to round two. And the biggest highlight of the series is Avery playing playground goofball. What a guy.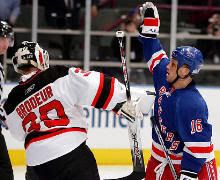 Sean Avery: Putting the 'ass' in 'classless'
Naturally, Rangers Fans all over the New York City went crazy with excitement!
So here we go..the seniors shitizens versusthe young whippersnappers.
I think the Pens have just enough youth PLUS one gnarly old Roberts dude to run the old men out of town.
Pens in six.
I will add, there is a chance the Pens fell asleep waiting for round 2, and may drop game one..I doubt it..but if they do..Pens in seven.