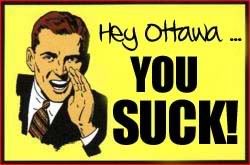 I think Ottawa coach Ryan Murray has doomed himself. In an effort to make his team feel like they get "no respect"..he just may have infuriated a sleeping Penguin team. We'll just see if he feels the Penguins took tonight off as well. My guess is he'll feel otherwise.
I have the itchy feeling this will be a blowout. I think it depends on whether his Sens bought his gimminck or not. I don't think they did, they have locker room problems. If not they are in for a long night against a riled up Penguin offensive juggernaut.

speaking of coach Murray..he has asked to sing the national anthem tonight
Enrico Palatzo was unavailable for comment.
Pens..6-1.
Just because I am pissed at Murray. Classless bum.